P o r t f o l i o
Jason W. Kotecki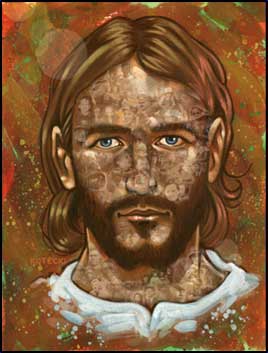 Jesus 2000
Mixed Media: Acrylic on Watercolor Paper and Digital Manipulation.
This piece was created for a contest looking for a contemporary portrait of Jesus in the year 2000. On the computer, a collage of photographs was added to the composition. In the final, Christ's face is made up of a combination of anonymous individuals and 20th century personalities to symbolize the concept that all are created in God's likeness.
© 1999 by Jason Kotecki. Any reproduction of this artwork is strictly prohibited.